The Barons' Charter trail in Salisbury
is a public art event celebrating 800 years of the Magna Carta. In 1215 the Great Charter was sealed at Runnymede. Salisbury's own Magna Carta is held in Salisbury Cathedral and is one of four original exemplifications (official copy) remaining.
There are 25 Barons around Salisbury from 12th June to 6th September 2015,
and 'baby' Barons in Salisbury Cathedral from 27th June to 12th July 2015.
There are another 25 Baron sculptures around Lincoln, from 13th June to 13th September 2015.
19
The Tree from the Garden of Life
- Susan Francis & Morning Star clients -
Bourne Hill Park
(29-Jun-2015)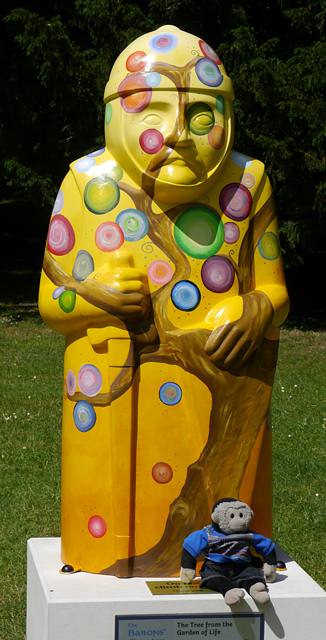 20
Busy Bee
- James Kent -
Greencroft Park / Bourne Hill
(29-Jun-2015)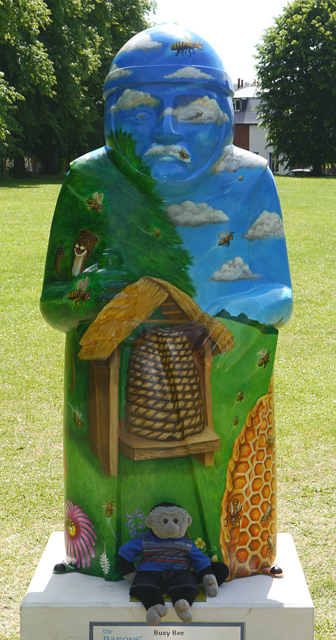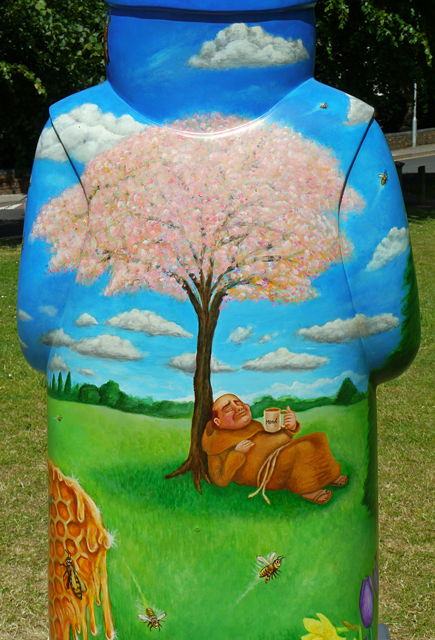 21
Baron Love Heart
- Sue Webber -
Childrens Play Area / The Maltings
(29-Jun-2015)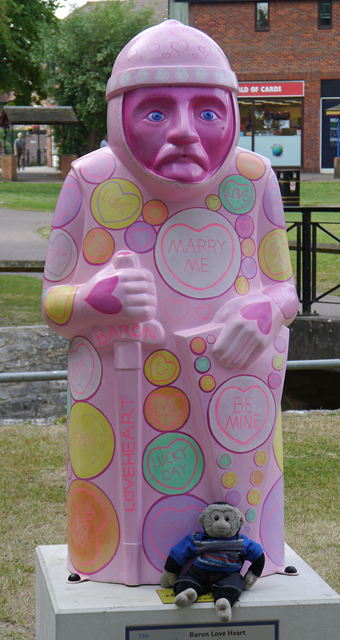 22
The Runnymede Baron
- Tom Ridout -
Mill Stream Approach / River Avon
(29-Jun-2015)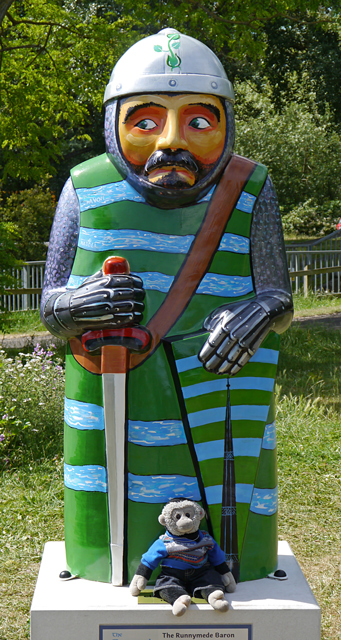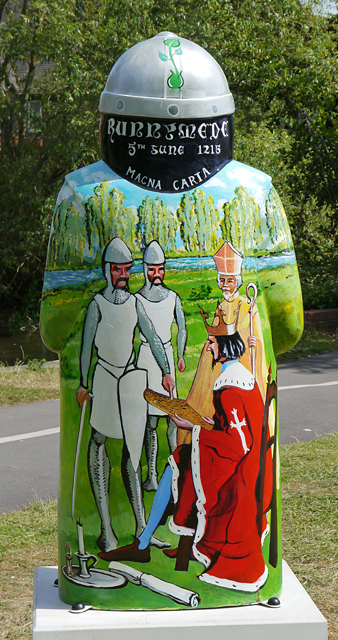 Mooch on the Mill Stream Approach bridge above the River Avon with the Cathedral in the distance.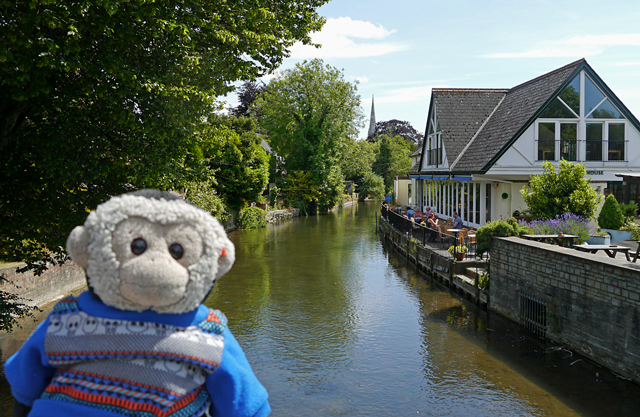 23
East Meets West
- Sam Coe and Archie Cook -
The River Walk / River Avon / Central Car Park Approach
(29-Jun-2015)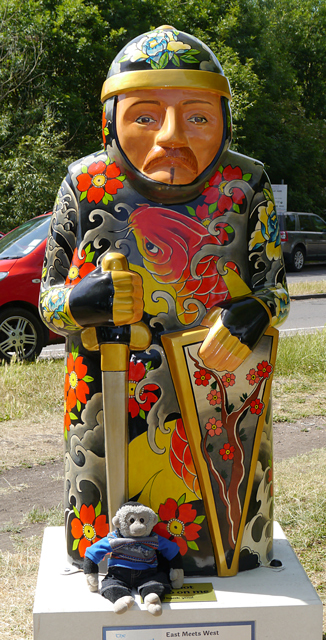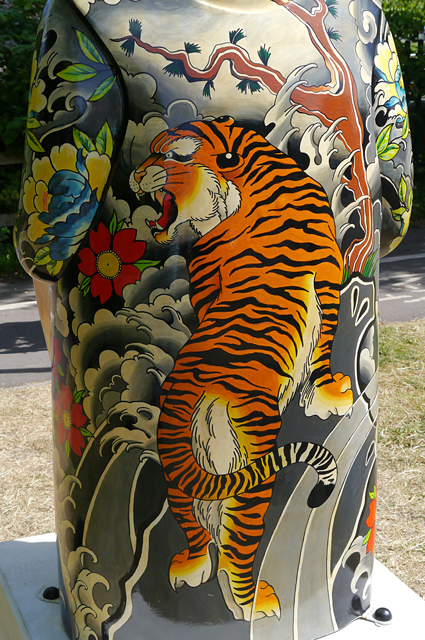 24
The Green Man Baron
- Sue Webber -
Waitrose supermarket / Churchill Way West
(29-Jun-2015)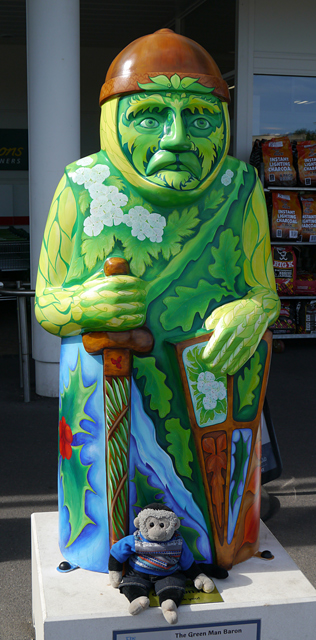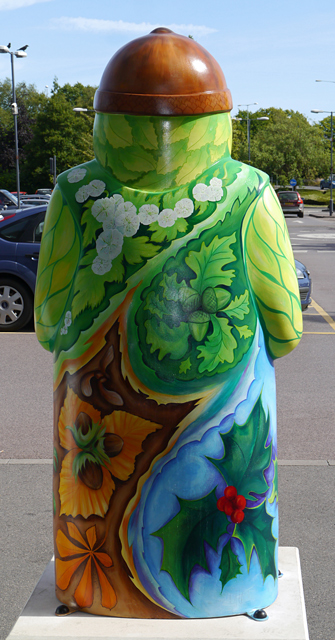 25
Baron Button
- Laura Fearn -
Salisbury Fire Station / Ashley Road
(29-Jun-2015)
Mooch says 'Hi' to the fireman who came out and chatted to him.
Mooch gave him a leaflet about the Lincoln Barons that they did not have.
The Salisbury fire service put the Baron statues out around Salisbury.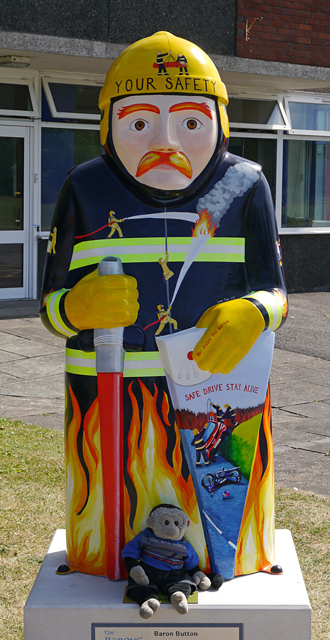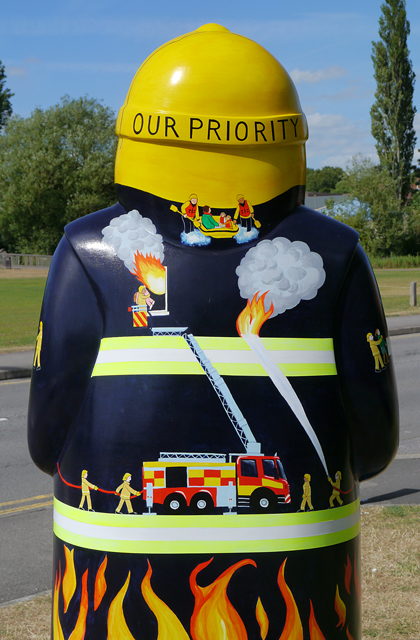 12-Jun-2015..13-Aug-2015 © www.mooch.org.uk 2015