A diary / blog of Mooch's adventures!
Diary Index:
2007-2011
Recent
Diary Pages:
Prev
Next
Spring 2008 flowers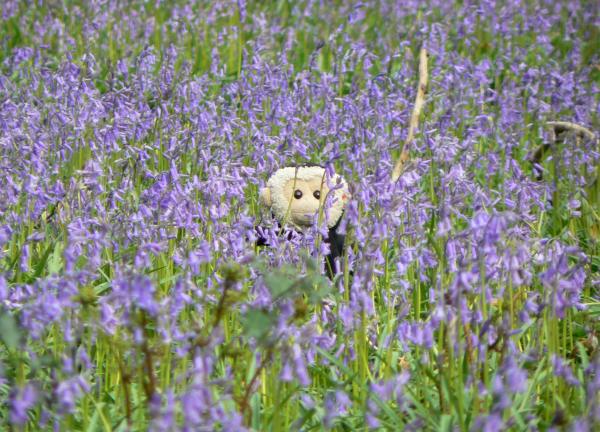 Mooch enjoyed the late April blue bells in a woodland glade.

Spring 2008 snow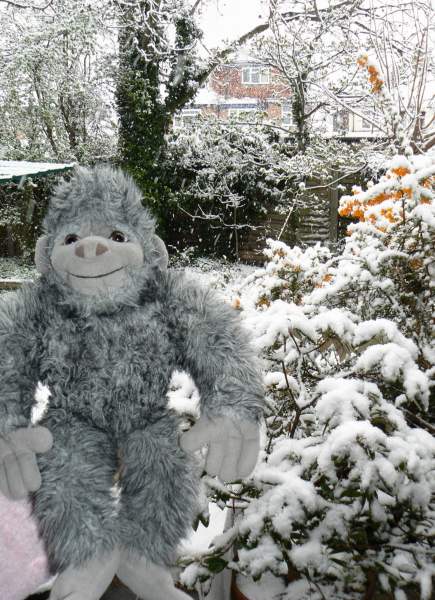 Yeti enjoyed the early April snow showers! It reminded him of home...

Easter 2008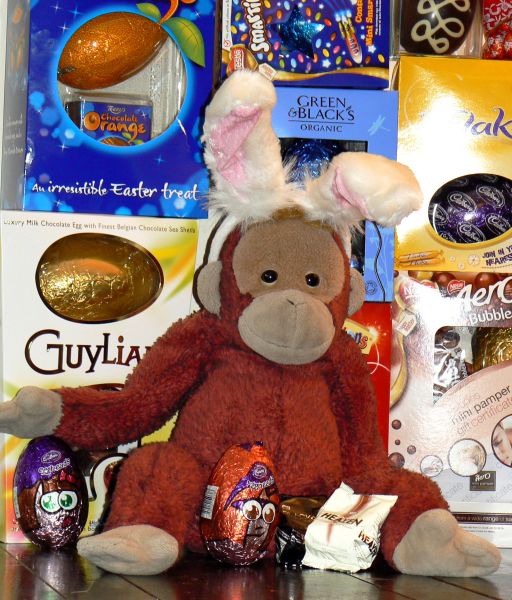 23rd March is Easter Sunday in 2008.
Big Mama has a new set of Easter Bunny Ears and is ready to eat as many Easters Eggs as she can!

St Patricks Day 2008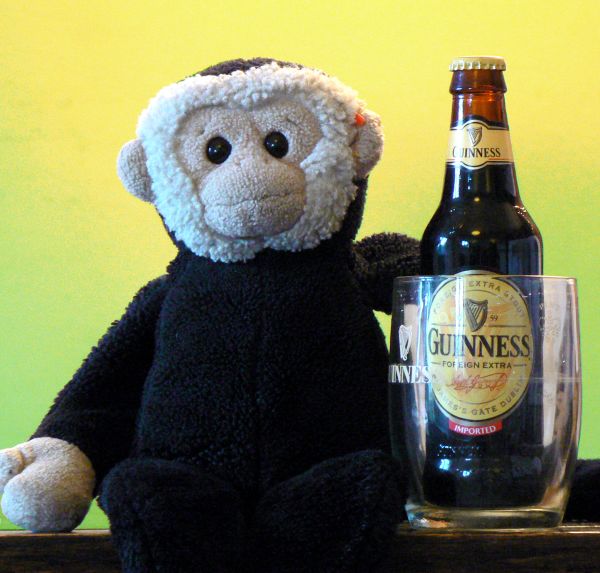 Saturday 15th March is St Patricks Day in 2008 (but its usually the 17th).
Here's Mooch ready with his Guinness for the big day.

World Book Day 2008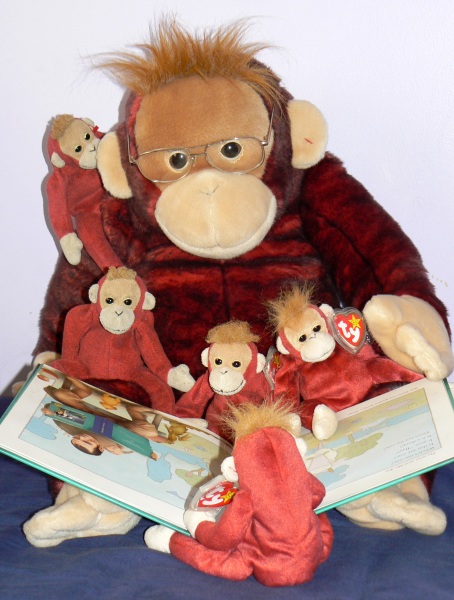 Thursday 6th March 2008 is
World Book Day
.
Here is Big Brother Schweetheart, our orangutan with librarian tendencies,
reading Terry Pratchett's "Where's My Cow" to his nephews and nieces!

Valentines Day 2008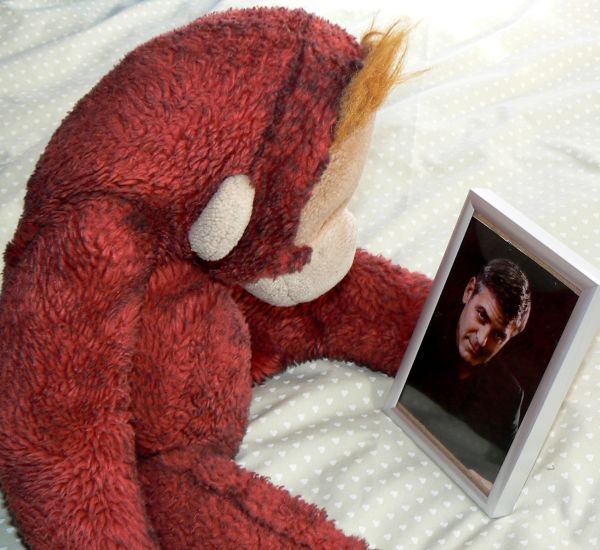 Thursday 14th February 2008 is Valentines Day and Big Mama Schweetheart, our orangutan matriach,
wants George Clooney to be her Valentine!

Pancake Day 2008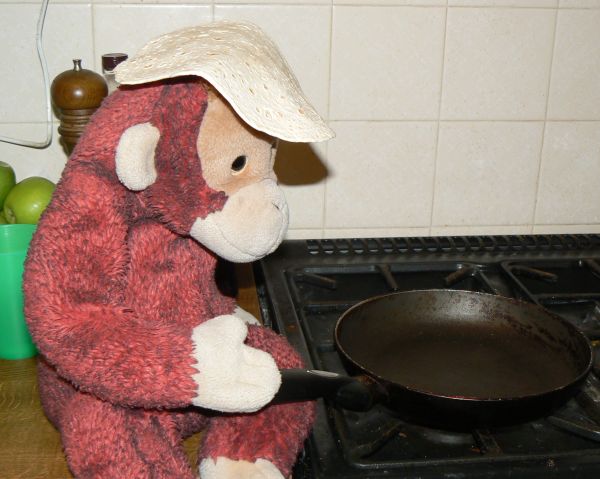 Tuesday 5th Febuary 2008 is Pancake Day and Big Mama Schweetheart, our orangutan matriach,
tries to make pancakes but ends up with a pancake on her head when she tries to toss the pancake!

Burns Night 2008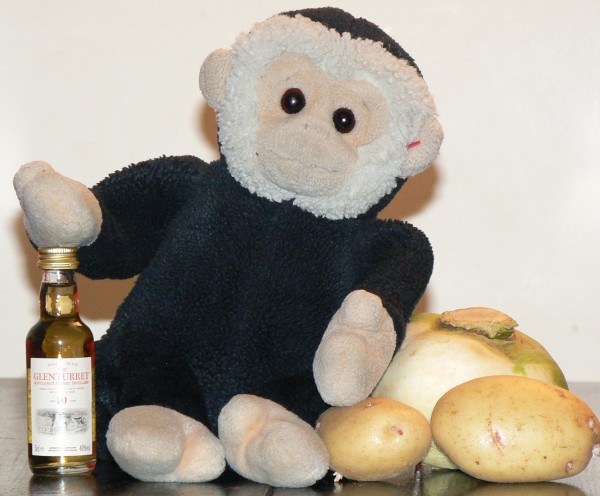 Friday 25th January 2008 is Burns night and Mooch will be celebrating!
Here he is all ready with his neeps and tatties (turnips and potatoes).
No haggis though as Mooch only eats vegetables and fruit - but he does of course drink whisky!

New Year 2008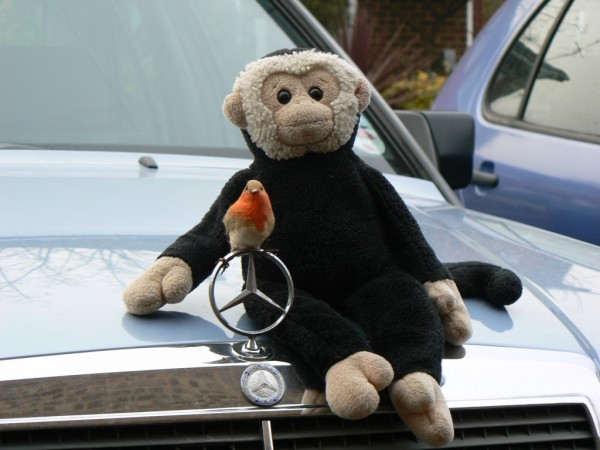 Happy New Year for 2008 from Mooch and his robin friend - sorry the robin is not real!

Christmas 2007
Merry Christmas for 2007 from Yeti and Big Brother Schweetheart and all of Mooch's friends
Diary Index:
2007-2011
Recent
Diary Pages:
Prev
Next
13-Feb-2008..10-Jul-2015 © www.mooch.org.uk 2005-2015